I've had the opportunity to record with a number of excellent musicians, and had the privilege to have my music recorded by many others. Here is a sampling of the recordings they have created.
CDs
Intersections: Chamber Music for Saxophone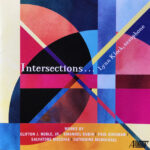 Lynn Klock's third recording on Albany Records. This recording features recordings of compositions by composers Clifton J. Noble, Jr. ("Trio for Alto Saxophone, French Horn, and Piano"), Emanuel Rubin, Paul Kinsman, Salvatore Macchia, and Catherine McMichael. Performers on this CD include composer/pianists Clifton J. Noble, Jr.; Paul Kinsman; and Catherine McMichael; as well as Laura Klock, horn; Elizabeth Chang, violin; Salvatore Macchia, contrabass; Michael Compitello, percussion; and Scott Bailey, piano. on Albany Records. Troy 1815. Purchase CD at Amazon.